.
BOOK SYNOPSIS:
* 29,000 words / 132 pages of real-life explosive erotica & graphic language *
"Following an afternoon at college, Melissa takes up an unexpected invite to Holly's apartment where she's promptly introduced to Sara & Louise… two of Holly's other gorgeous girlfriends. However, neither of the girls are impressed by Melissa's new-found obsession with Holly… so they decide to teach her a lesson she'll never forget. Over the next few hours, reckless debauchery ensues as the girls subject Melissa to the full range of verbal & physical abuse, and with copious amounts of degradation & humiliation thrown in for good measure.
After Sara & Louise leave at 2am, Melissa decides to spend the night at Holly's. She returns home the following morning much worse for wear, and walks head-long into yet another blazing row with Emz, her long-time and long-suffering girlfriend. Thanks to Sara's on-the-fly handy work, Emz already knows all the sordid details of Melissa's antics.
Feeling guilty, Melissa offers Emz an olive branch by way of a "free pass". This in turn will give Emz the opportunity to spend a full day & night with whoever she chooses, and without any of the usual dire consequences… which she swiftly yet begrudgingly accepts.
Straight after Emz leaves for work that morning, Melissa invites Stacey round so she can dish the dirt on Emz' activities the previous weekend with Lee. Tensions run high and sparks fly as Holly pays Melissa an impromptu visit, mid-spill.
Emz ultimately decides to invoke her free pass that same evening. As always, there's a bizarre twist in store as Emz informs Melissa that she won't be going alone. But where will she go? Who will she be seeing? And who is she planning to take with her?"
"Dirty Little Bitches" is the latest installment in the action-packed In Bed With Melissa series – featuring: "The Insane Real Life Adventures Of an Out-of-Control Girl-Loving Slutty Hot-Ass Dirty Nympho Bitch…" – and it doesn't disappoint.
Warning: For 18+ readers only. Includes: explicit lesbian sex, strong language, verbal & physical abuse, coercion, degradation, humiliation & discipline. It's just another typical fun-filled & action-packed night out for Melissa, where typically anything and everything goes.
*** CLICK THE BOOK COVER BELOW TO GET
"DIRTY LITTLE BITCHES" via KINDLE (Printed book coming soon!) ***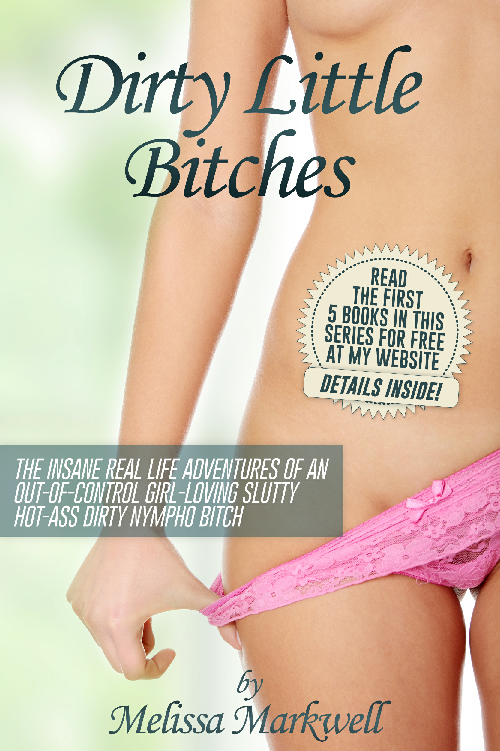 Don't have a Kindle? No probs! You can still read it on your PC, Mac, laptop, tablet, iPhone or android using Amazon's free software – downloadable in seconds via this link.
. . . . . . . . . . . . . . . . . . . . . . . . . . . . . . . . . . . . .